Our beloved brother, Cemal Erşen has gone to the mercy of Our Lord on November 18th 2014 after a sad and unexpected heart problem.
Brother Cemal, who served as a member of Hayrat Foundation Scholars Committee, was one of those fortunate brothers who are successful enough to squeeze a great many wonderful services into a limited lifespan. He served as Hayrat Foundation representative in many provinces around Turkey for long years, and he taught numerous brothers who thanks to his selfless efforts are now solely serving the Holy Qur'an. Since 2009 he had been based at Hayrat Foundation headquarters, and was involved in leading and conducting various academic projects.
The interpretational translation of meanings of the Quran, The Simple Fiqh of Salah, Biographies of Imam Bediuzzaman Said Nursi and his Successor Ahmed Husrev Altınbaşak were among his books. He also wrote for the monthly Islamic educational and cultural magazine Irfan Mektebi (School of Wisdom). He was the editor of the famous website Risaleonline.com and answered hundreds of questions regarding Islamic creed. Apart from all this, he gave talks on Risale-i Nur and broadcasted at the Hayrat TV website. He coordinated and gave brotherly support to many other academic studies as well.
He also played an active role in international activities as he knew Arabic and fairly good English. He paid multiple visits to different countries for the purposes of spreading the service of the Quran and distributing humanitarian aid to less fortunate local people in those countries. He was a warm-welcoming host for the visitors who came to Hayrat Foundation. He gave talks on different topics to those visitors.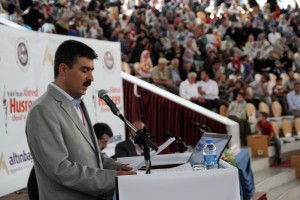 He participated in many scholarly debates, and presented papers in panels, symposia and conferences around the country.
Brother Cemal went to the realm of the Hereafter to wait for his fellow Risale-i Nur brothers when he was 42 years old and at a time when his sincere work was ongoing. At the time of his passing, he was working on the private archives of Husrev Efendi's copies of Risale-i Nur which were written in tawāfuq (miraculously congruous alignment).
Erşen lived a life fully dedicated to Allah and the cause of iman. Having lived purely as a man of service, sacrifice and dedication to the Holy Qur'an, his passing taught his fellow Nur students and friends in the service great lessons.  A crowded community in their green hats and white turbans gathered at Isparta Terminal Mosque for the funeral prayer. In accordance with his wishes, he was buried in Isparta Dogancilar Cemetery where the founder of Hayrat Foundation Ahmed Husrev Altınbaşak (the Successor of Bediuzzaman Said Nursi) is also buried.
In the Risale, Imam Bediuzzaman Said Nursi says: "The one Who causes death is Allah, that is, He releases one from the duties of life. He substitutes one's location, away from this transient world. He frees one from the burden of service. In other words, He takes you from transient life to eternal life." Filling his book of amal with good deeds, Brother Cemal finished his life-service and attained to his Lord.
After a similar incident when one of his students passed away, Our Ustad Bediuzzaman shared his consolation in the epistles of Light:
"(After taking) Abdurrahman, Allah subhana wa ta'ala sent me Mustafa instead of him. (It was as if Allah said to me): 'I have taken one Abdurrahman from you but will give you thirty Abdurrahmans, like the Mustafa you see now – not only an assisting student in religious duties, but also a nephew, a spiritual son, a brother and a self-sacrificing close friend.' Yes, all praise and thanks be to Allah that He (SWT) gave me thirty Abdurrahmans. I said at that time: 'O my weeping heart! Since you have seen this example [of a replacement for Abdurrahman] and He cured your spiritual wounds through him, you should be content (in the knowledge) that He will heal the rest of the wounds that trouble you."
We ask the forgiveness and mercy of our Lord for our beloved Brother Cemal, and beautiful patience for the ones he left behind. We also hope and pray that the passing of our Brother Cemal will lead many more brothers and sisters to be educated and support Hayrat Foundation's ongoing and rapidly growing service.
O Allah, bestow us many other Cemals whose hearts beat with love and passion for the Qur'an and for service to it. Amin!